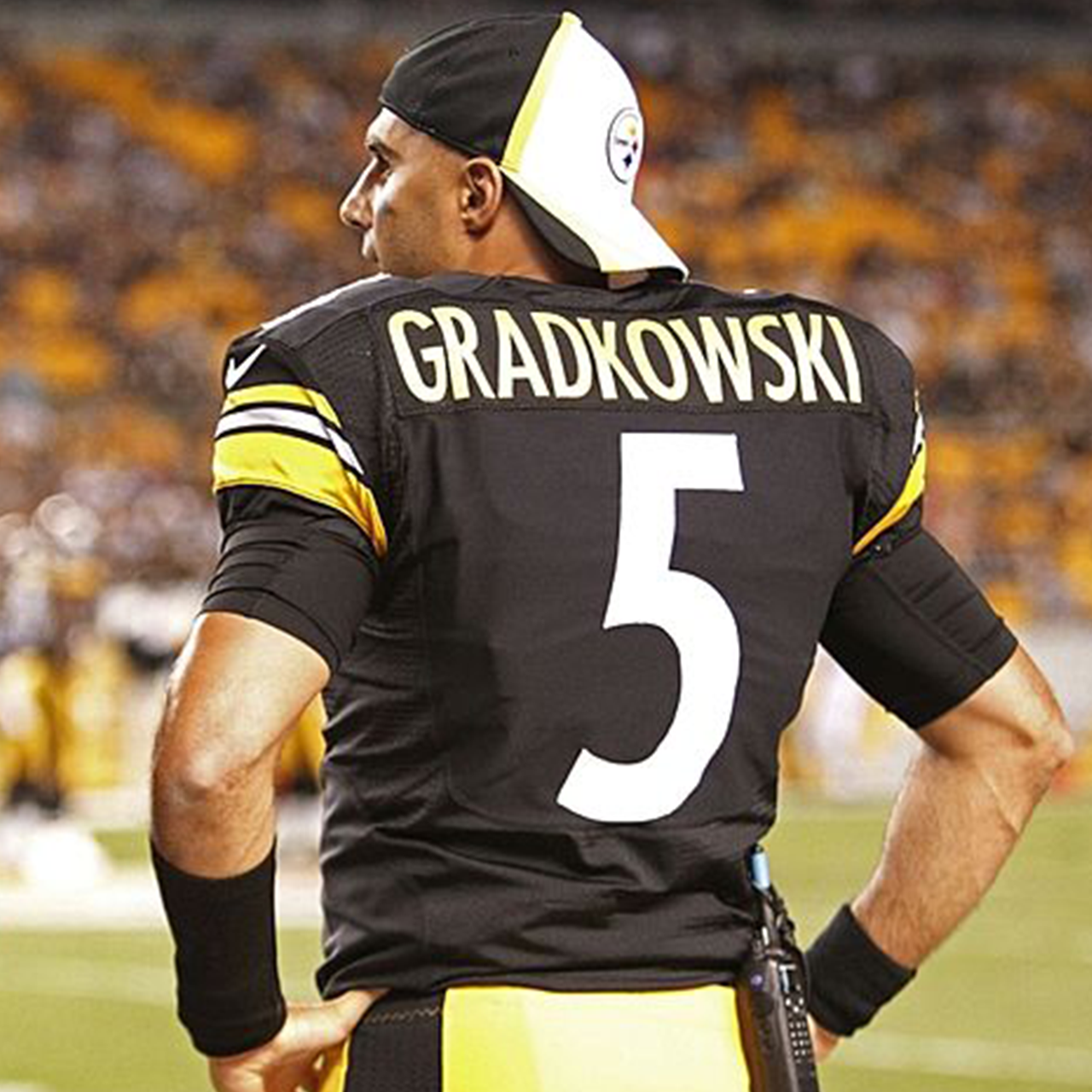 Bruce's Story
Bruce is a proven winner who has overcome adversity and achieved excellence at every level of his career. After a successful 11 year career in the NFL, Bruce is focusing his energy on a new broadcasting career. He began exploring a career in media during his playing days by serving as an NFL Playoff Analyst in Oakland, hosting a radio Show in Pittsburgh, and headlining "Bruce's QB Q&A" for the past 4 years for 13abc Action News in Toledo. He recently completed the 2017 NFL Broadcast Boot Camp.
Bruce is anxious to bring his on-field leadership and football expertise to the booth where he can continue to share his passion and love for the game with the greatest fans in the world. Bruce has played for some of the best minds in the game and with some of the greatest players of the modern era and will be a valuable addition to any team. Bruce's brother, Gino Gradkowski, is currently an Offensive Lineman for the Carolina Panthers.
Major Coaching Influences: Jon Gruden (Buccaneers), Jay Gruden (Washington Redskins), Marvin Lewis (Bengals), Mike Tomlin (Steelers), Mike Zimmer (Vikings), Hue Jackson ( Browns)
Notable Teammates: Derrick Brooks, Ronde Barber, Andy Dalton, AJ Green, Mohamed Sanu, Ben Roethlisberger, James Harrison, Troy Polamalu, Antonio Brown, Le'Veon Bell, Joe Thomas, and more.
NFL CAREER (2006-2017)
Quarterback
Drafted in 2006, in the 6th round to the Tampa Bay Buccaneers.
Started 11 games as a rookie. Gradkowski set a record by throwing more passes in NFL history as a rookie before suffering his second career interception.
Cleveland Browns (2008).
Oakland Raiders (2009-2011). Gradkowski's career highlight came on December 6th, 2009 when he threw for a career high 308 yards and 3 fourth quarter touchdowns with the final touchdown coming with nine seconds remaining for the game winner. This earned him AFC player of the week.
Cincinnati Bengals (2011-2013). Gradkowski was Andy Dalton's backup for two years. Played in one game while replacing Dalton due to an injury and threw a game winning touchdown pass to AJ Green.
Pittsburgh Steelers (2013-2017). Finished his career in his hometown backing up Ben Roethlisberger.
College Career
Quarterback, University of Toledo
Gradkowski set 27 school passing records over 3 years as the starting QB.
Led UT to a 26-11 record, a MAC Championship, 2 MAC West Division titles and 2 bowl games.
Gradkowski is the Rockets' career leader in passing yards (9,225), passing completions (766) and Touchdown passes (85).
Named co-winner of the 2005 Vern Smith Award by the Mid-American Conference. The award, given annually to the league's Most Valuable Player, was shared between Gradkowski and Western Michigan wide receiver Greg Jennings.
Personal
Gradkowski now resides in Maumee, OH with his beautiful wife Miranda and children Lily Roman and Lincoln.
Relevant Media Experience
BROADCASTING REEL: https://vimeo.com/232120355/80f4a6f930
Worked 2 years as an NFL Playoff Analyst with Comcast Bay area while playing for the Raiders.
Bruce's QB Q&A every Tuesday during the football season for the last 4 years on 13 abc Toledo action news.
7 "The Fan" radio show Pittsburgh PA – 2 years.
Attended the 2017 NFL Broadcast Boot camp.
Guest on "Good Morning Football".
Root Sports in studio analyst for Western Pennsylvania High School Football Championship
University of Toledo Radio Color Analyst Members of the press are welcome to contact us regarding media appearances. Please use the contact page for inquiries.